Rennie, Lindsey and Associates, Inc. is the custom software developer of the wholesale distribution manufacturing accounting software packages: E-Syst and ASSIST 2K. See a partial list (below) of the manufacturers and wholesale distributors that are already using the software. Preview our software products and review their screen shots - see what we can do for you TODAY! Please click here to see the module overviews, screen shots and sample reports.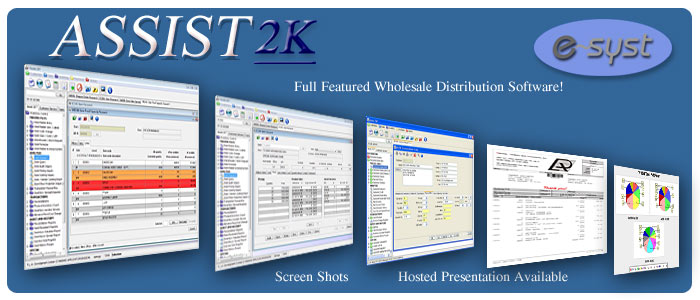 E-Syst and ASSIST 2K are business software solutions designed for companies that require flexible and user-friendly wholesale distribution software or manufacturing software. We also have solutions for mass distribution EDI software ideal for businesses working with Wal-Mart, Kmart, Cabela's, 3M and many more. In addition to our ability to provide awesome business software, we also focus in, on the specific needs of certain industries. Our lot control software, document / image archiving software, CRM features and inventory software are especially well fitted to companies that require aerospace fastener software, broker fastener software, commercial fastener software and electronic component software.

Our vessel tracking and import landed cost software is well suited for companies that require import software and export software. We have a number of sporting goods / toy importers, toy distributors and toy manufactures that use our importing software. Our customer credit control, multiple units of measure conversion and customer pricing matrix software are ideal for companies that are looking for building material software. Finally, our Canadian customers make full use of Canadian payroll, foreign currency translation and GST / PST support. At RLA, we make better software, because we focus on your business.

This software is already being used in the following industries.

Aerospace Fastener Wholesale Distributors
Industrial Fastener Wholesale Distributors
Drill Bit Manufacturing Distributors
Fireworks Importers / Distributors
Commercial Fastener Wholesale Distributors
Importing / Exporting Wholesale Distributors
Home and Garden Wholesale Distributors
Toy Importer / Wholesale Distributors
Canadian Wholesale Distribution / Manufacturers
Electrical Supply Distributors
Caster Wholesale Distributors
Sporting Good Wholesale Distributors
Electronic Component Wholesale Distributors
Building Material Wholesale Distributors
Hydraulic Component Wholesale Distributors
Suppliers for Mass Market / Drug Store / Retail Stores
EDI Distributors to Wal-Mart, Cabela's, Bed Bath & Beyond, Kmart, Academy, 3M, Benchmark etc...
Auto Part Manufacturers / Distributors
Canadian / European / Pacific Rim / Asian Importers and Exporters
Golf Bag Manufacturing Distributors
Concrete Coloring Manufacturing Distributors
Tent Manufacturing Distributors
Fragrance Manufacturing Distributors
Ink Manufacturing Distributors
This site is a member of WebRing. To browse visit here.

Christian eBuy Business Directory - Fastest Growing Christian Business Directory on the Net!
Christian Links
The Engineers' Club - Online Resources
ETA Global, when service matters.
KwMap.com - browse the Keyword Map of Rla-assist.com
L3xicon.com target="_blank" a web thesaurus and lexicon listing Rla-assist.com.
locald.com locald.com - Local Business Directory
LinkPartners.com Free directory of websites who swap links with other websites.
Rennie, Lindsey and Associates, Inc. Company Profile on FindAccountingSoftware.com.

Created and maintain by